Our Team
Hannes and Maria
---
Adrian
My name is Adrian Trojer, I was born in 1998 and I am from Hollersbach im Pinzgau. After finishing school I became an electrician and finally afterwards I had my first contact with working in a bar. In 2019 I graduated as a diploma barkeeper from the European Bartender School in Barcelona. I got to know Ginhouse because of a friend who was working there as a barkeeper, who also introduced me to Hannes, the owner. Since then I'm able to live my passion in Ginhouse.
---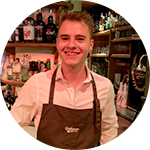 Patrik
My name is Patrik Feher. I was born in 1996 and I am from Hungary. I worked as a software developer, but found my passion as a barkeeper very soon. I began working at bars in hotels and in 2021 I graduated from a diploma barkeeper course in Zell am See. In 2022 I was finally able to start working at Ginhouse.
---
Kilian
My name is Kilian Kainz, I live in Mühlbach im Pinzgau and was born in 2001. I was working as a baker after school. Then I was working on a mountain hut, and for this reason got into bartending. In May 2022 I attended the European Bartending School in Berlin and graduated there. Thanks to Adrian I was able to start working at Ginhouse in June.
---